This page is protected from edits made by unregistered users due to recent vandalism and/or traffic flood.
If you feel that something on this page needs to be changed, discuss it on the talk page.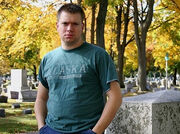 For the character, see Chris Bores (character).

Christopher "Chris" Bores, born 1979 in Columbus, Ohio [1] is the owner of Y2B Productions (later renamed Irate Entertanment) and the host of The Irate Gamer show on YouTube (along with IG neo, Haunted Invistigators, Chris and Scotty roadtrip (now canceled), History Of Video Games, IG Summer Movies, IG's Trailer Reviews (also canceled), IG shorts and breakfast rant (later re tooled into I Rate the 80s).
Trivia
Sources
External links